administrative staff
BRENDA RUSSELL
HEAD OF SCHOOL
Favorite Scripture
"Because of the Lord's great love we are not consumed, for His compassions never fail. They are
new every morning. Great is your faithfulness. I say to myself, "The Lord is my portion, therefore I will wait
for him."
Lamentations 3:22-24
Brenda joined the CTCS family in 2014 and serves as our Head of School. She graces our halls
with a spirit of encouragement and an amazing capacity of love. Brenda has a passion for nature and the great state of Texas. She
enjoys taking day trips, and is currently attempting to visit all the historical forts within the state. She
considers herself a connoisseur of hamburgers and visits local burger joints everywhere she travels; her favorite as
of today is in Lajitas, Texas at Candellia inside the Lajitas Golf Resort. Brenda has also dreamed of traveling
with her family to Ireland and Scotland. She and her husband of 44 years (Bob) have three grown children (Tamara,
Tyler, and Rance), two precious daughter-in-loves (Kim) and (Pam) a son-in-love (Chris), one granddaughter (Harper
Grace) and two grandsons (Ridge Levi and Cash Townes)."Every morning I feel I need to pinch myself. I am overwhelmed
with the blessing of knowing God has given me His mercy and grace and a new day to share His love with His children. Are you kidding? He chose me to work with His
most precious creation – His children? What an honor and a great joy."
John Bate
SECONDARY PRINCIPAL
Favorite Scripture
"Oh, taste and see that the Lord is good! Blessed is the man who takes refuge in him!"
Psalm 34:8
Mr. Bate is entering his first year at Central Texas Christian School and will be serving as the Secondary
Principal. He has worked in education for 11 years in the Killeen Independent School District. John has been a 3rd
grade teacher, a 5th grade teacher, a Campus Instructional Specialist, a 504 Coordinator, and a Curriculum Director.
John and his wife Kristin have been married for 15 years and both are alumni of The University of Mary
Hardin-Baylor. John and Kristin have three boys – Ethan (11), Owen (9), and Logan (5) – who will be attending CTCS.
John enjoys spending time with their boys through various activities – youth sports leagues, fishing, hunting,
family trips to Colorado, and spending time with family and friends. John loves supporting UMHB football, Texas
Longhorn football, and the Dallas Cowboys. He played football for the Crusaders when he was in college.
"God continues to bless our family and my career in allowing me to join CTCS. I am beyond excited to call this place
home, and I can't wait to see the daily impact this school continues to have on students' lives."
Bill
Diab
ELEMENTARY PRINCIPAL
Favorite Scripture
"For with God nothing shall be impossible."
Luke 1:37
Nabil "Bill" Diab has been at CTCS for over six years, starting as a 5th grade teacher. Along
with his duties as an Elementary School Principal, Bill taught 4th and 5th grade in addition to high school
Bible classes.
Bill is originally from Lebanon and came to the United States over 40 years ago. Lebanon is an amazing place, known
for its beauty, rich in diversity and history."I can't express enough to you how blessed I am for the wonderful life
I have received through our Lord and Savior.
When I cried out for Him, He heard me. I'm always ready to share my testimony with you."
Kelly Humphrey
PRESCHOOL DIRECTOR
Favorite Scripture
"The Lord has done great things for us; and we are filled with joy!"  Psalm 126:3
Kelly serves as our Preschool Director and has been at CTCS for 21 years.  She and her
husband, Eddie, have been married for 28 years and have two children.  Taylor graduated from CTCS in 2018 and
Rhett is currently in ninth grade.  Kelly taught first grade at CTCS for 18 years before transitioning to the
role of Preschool Director and Admissions.  Her classroom was affectionately called the "Humphrey Honeybees" and
she loved watching through the years as the honeybees grew.  With this new role, she has the joy of seeing
former students as well as meeting new families.  Her new favorite thing is to talk to new families about CTCS
and why it's so special.   When not at CTCS, Kelly enjoys spending time with family and friends, cheering on the
Texas Longhorns, and dreaming about future trips.
Karen Luckett
DEAN OF STUDENTS
Favorite Scripture
"Therefore, we do not lose heart. Though outwardly we are wasting away, yet inwardly we are
being renewed day by day. For our light and momentary troubles are achieving for us an eternal glory that far
outweighs them all. So we fix our eyes not on what is seen, but on what is unseen. For what is seen is
temporary, but what is unseen is eternal."
2 Cor 4:16 – 18
Karen has been a part of the CTCS family since 1988 and serves as the Dean of Students. Karen
and her late husband Bobby, were happily married for 47 years, and have three children that all attended CTCS. They
also have ten grandchildren. Additionally, she is a proud graduate of the University of Texas. Karen's commitment
and love for CTCS is obvious as she
dedicates herself to its missions and its families. When she does have down time, she enjoys watching movies,
eating popcorn, relaxing by the pool, watching the stars, and playing with her grandchildren. She also hopes to
explore the other side of the ocean and take a tour of Italy, Paris, England, Ireland, and Scotland.
Leif Johnston
Athletic Director/Head Football Coach
Favorite Scripture
Be on your guard; stand firm in the faith; be courageous; be strong. Do everything in
love.
1 Corinthians 16:13-14
Coach Johnston is entering his eighth year at Central Texas Christian School. He previously
served as the
Head Basketball Coach and Football Offensive Coordinator. He attended the University of Mary Hardin-Baylor.
While there Coach Johnston played football as well as spending time as a student-assistant for the
basketball program.
Leif is married to Morgan, and they have two children, a beautiful daughter, Lennon and a baby boy, Mayor. He is
thankful to God for
their support in understanding the time and energy that goes into transformational coaching. Athletics has
been an integral part of Coach Johnston's life, and has taught him many lessons that may have otherwise gone
unlearned. He truly believes that what is learned on the field, court, diamond or track directly relates to
the adversity that each young person will ultimately face in their lives. "We merely want to use athletics
as an avenue in giving them tools to handle adversity in a way that Glorifies Christ," says Coach Johnston.
CTCS Athletics strives to compete with honor as we represent Christ first and foremost. Having the
opportunity to further His Kingdom by the way we act, talk, and perform is the most satisfying aspect of
what it means to be a coach.
ALEX KETTEMAN
CHIEF FINANCIAL OFFICER
Favorite Scripture
"Be strong and courageous. Do not be afraid or terrified because of them, for
the Lord your God goes with you; He will never leave you nor forsake you." Deuteronomy 31:6
Alex Ketteman joined CTCS in 2022. Alex has worked in financial services for over
a decade as a financial manager and accountant. He spent 9 years in private wealth management and
insurance, and 2 years with a local CPA firm. At CTCS, Alex is responsible for planning,
implementation, and oversight of all financial activities and business/fund operations.Alex and his wife Hannah both
graduated from Abilene Christian University, and they have two
children – Amelia and Alton. Alex is an adamant believer that when you are passionate about
something, you care for it through both your stewardship of resources and through committing your
whole energy and self to making it the best it can be; he hopes that his care for CTCS is evident in
this same way.
School Board
Central Texas Christian School Board Governance Model
Central Texas Christian School is a 501(c)(3) non-profit organization, existing to provide Christian education. As such, the CTCS School Board operates using a non-profit form of governance rather than the form of governance used by public schools, which are political bodies subject to open meeting requirements. The Board follows principles of policy governance, whereby the Board sets broad policies within which the school is to operate, but does not interject itself into the operations of the school. No individual board member has any authority over school personnel or operations, nor does any individual board member have authority to speak for the school. The Board believes in the one-voice authority of the Head of School, who is accountable to the entire Board, not to any individual board member.
Board Meetings
Central Texas Christian School does not hold open meetings. The Board concerns itself with school policy and strategic planning rather than with daily operations. Therefore, curriculum, personnel and student policies are primarily determined by the Head of School with assistance from the administrative team and other staff members, subject to parameters set forth in Board policies.
Board Member Selection and Qualifications
The Board is self-perpetuating. All potential Board members must be nominated from within the Board, although names may be suggested for consideration by anyone. Members of the Board must be born-again believers and subscribe without reservation to the school's Statement of Faith and Statement of Educational Philosophy. Members of the Board must be Christian role models in the school and community and members in good standing of a local evangelical church whose doctrine is consistent with the school's Statement of Faith.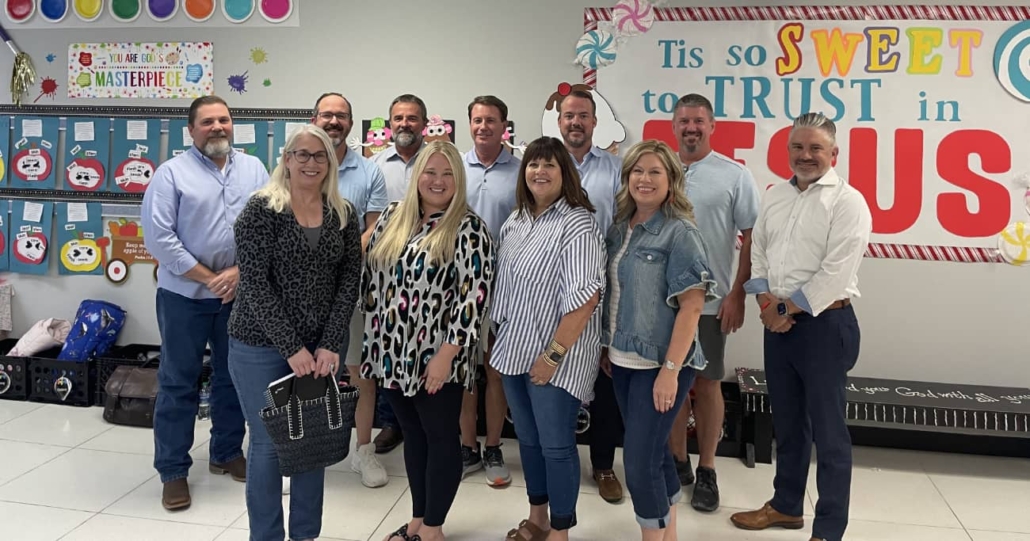 Please consider how you can invest your time and resources to support our students and the vision of CTCS