who we are
Central Texas Christian School is a private non-denominational school located in Temple, Texas. It has over 450 students and provides classes for Pre-K through 12th grade. With an average class size of 12 students, and a great staff of hands-on, caring teachers, CTCS serves a large and diverse population from surrounding communities including Belton, Killeen, Ft. Hood, Copperas Cove, Salado, Academy, Moffatt, Jarrell, Florence, and Troy.
OUR HISTORY
In 1987, a group of five families from different churches and backgrounds came together to form Central Texas Christian School. These original families established a governing board and rented space from Temple Bible Church for classrooms. CTCS opened with fourteen students in two classes. By the fifth year, CTCS had grown to more than eighty students in eight classes. At the 20-year anniversary, CTCS had 520 students with multiple classes per grade level. Since its modest beginnings, the only major change in Central Texas Christian School has been in the number of students and staff. The original principles on which the school was established still provide the foundation and inspiration for the direction of CTCS.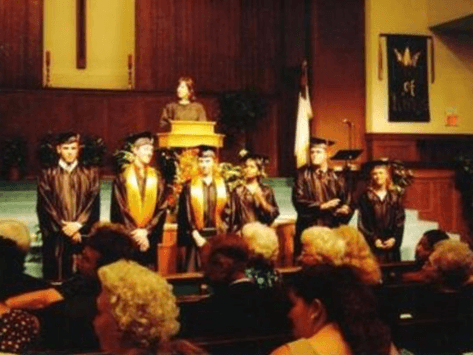 In 1997, CTCS acquired acreage on West FM 93 between Belton and Temple through the vision of a generous local family who desired to have a Christian School built on the property. CTCS purchased fifteen acres, and the family gave an additional ten acres to complete what became the new home of Central Texas Christian School. Currently, CTCS owns 54 acres at its current location with plans to expand to accommodate future growth.
In 2002, CTCS graduated its first Senior class (pictured above). CTCS is accredited by the Association of Christian Schools International (ACSI), and COGNIA, governing bodies that provide oversight and accountability in academic programs. With the addition and expansion of athletics and academic competitions, CTCS also joined the Texas Association of Private and Parochial Schools (TAPPS). Students have the opportunity to participate throughout the year in a large variety of athletic, academic, speech and fine arts competitions through TAPPS. Central Texas Christian School is the only interdenominational school serving Pre-Kindergarten through the 12th grade in the Bell County area. Central Texas Christian School strives to partner with parents and churches in raising up a generation of leaders for the Kingdom of God through excellence in Christian education.
In 2022, CTCS celebrated 35 years of providing academic excellence and Christ-centered instruction in the Bell County region. CTCS proudly boasts a 100% graduation rate with students continuing on to a school of higher education, the military or a mission field.
Please consider how you can invest your time and resources to support our students and the vision of CTCS